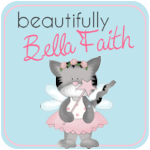 BellaFaith is hosting her first blogger opp and it's a great one!!! She's giving away a $100 Amazon GC and would love for other bloggers to join in the fun and help spread the word. And the fantastic thing is, it's totally free and you can include as many links as you like!
Sign Ups: Will be accepted until May 29th.
Event Dates: May 30th - June 7th
Visit her blog for more info.
Hope to see you there!